Help Your Child Learn, Focus, And Respect With Kids Martial Arts
Give your child a head start in life with our Kids Martial Arts Classes at Jiu Jitsu 4 Life in Coral Springs. With a focus on Brazilian Jiu Jitsu training, these classes teach students important habits of physical activity while preparing them for potential threats by bullies and helping them build lifelong character skills.
Beginning at age 4, our Kids Martial Arts Classes teach everything from the most basic instruction to high-level competition training. And, of course, these exciting classes are perfect for children of all experience levels and backgrounds.
Boost Your Child's Self Esteem With Kids Martial Arts
There is so much more to Kids Martial Arts than just kicking and punching. There's no better way than Martial Arts to help your child learn leadership and respect.
Unlike team sports, our Kids Martial Arts classes don't have many rules, BUT they are very rigorously enforced. As a result, kids learn and develop strong, healthy boundaries.
Children of all backgrounds, even those with ADD/ADHD develop discipline and respect within a few short weeks.
Your child will quickly:
Build a core self-awareness
Feel good about themselves on a daily basis
Take pride in their achievements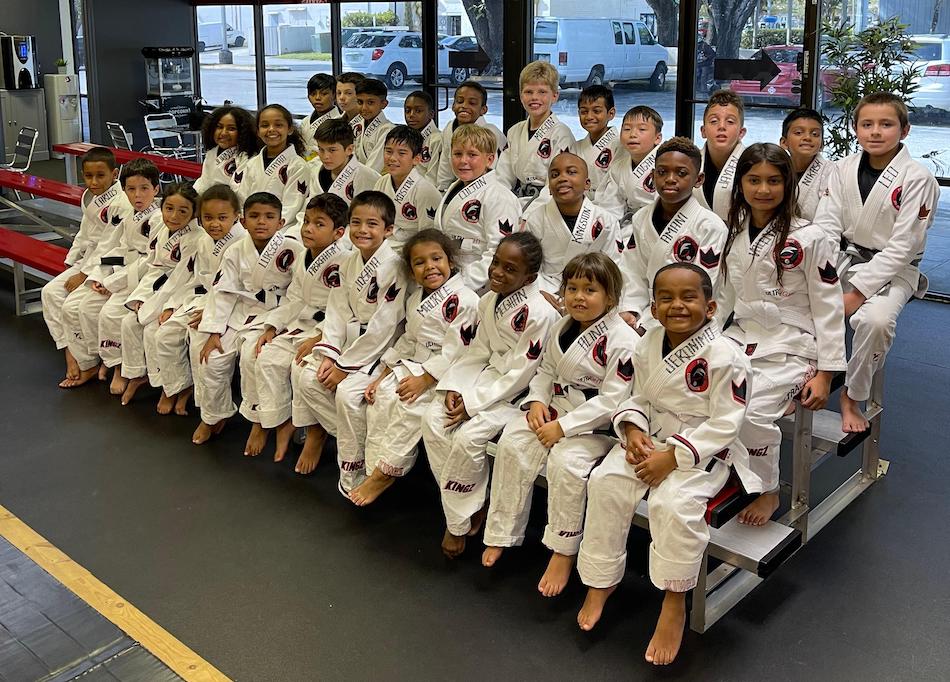 Kids Martial Arts Helps Children Build A Valuable Foundation
Don't let your child go through life without a foundation of success and support to lean on. Our family-friendly Kids Martial Arts Classes at JJ4L in Coral Springs help students feel at home in our classes and they enjoy the support of everyone around them on a daily basis. Even the shyest of students integrate into the group seamlessly - quickly making friends, laughing, and having a BLAST.
As your child grows and thrives in our Kids Martial Arts Classes, they will develop important skills that will serve them for years to come. From the classroom to your home and even into adulthood, Kids Martial Arts can guide students in anything they do.
PLUS, our program is can build a lifelong foundation of fitness in any child. Martial Arts builds coordination, endurance, speed, and strength. It is a solo sport. You're with a group, but it's your own personal journey, so you can't "let the team down."
From day one, your child will learn:
Respect for others
Compassion and communication
Self-discipline and control
Focus and attention to detail
Start Your Kids Martial Arts Journey Today!
Black belts are 63% more likely to graduate college. Why? Discipline, focus, goal setting, and drive. Martial Arts instills these incredible traits in your child, every time they come.
Take the first step today and introduce your child lifelong habits of physical activity, discipline in all areas, and self-defense when it's needed.
To get started, or to learn more about everything we have to offer at JJ4L, all you have to do is fill out the short form on your screen and a member of our staff will be in touch soon to answer all of your questions!